I'll be honest, I have been periodically checking I still have a pulse ever since returning from seven of the most unforgettable days at Sziget 2016, Budapest's 'Island of Freedom' and arguably the Best Festival anywhere in Europe. 
The Irish love affair with music festivals remains as strong as ever with EP, Longitude, Forbidden Fruit, Sea Sessions etc all flying the flag at home but maybe it's time to think a little bigger? Well, we did and it was last year's Sziget Aftermovie that pretty much sealed the deal on visiting Hungary's capital from 10th – 17th August and a place we thought couldn't possibly be real.
Here's how we got on, the unforgettable highlights, some solid gold tips for next year and why this is one Bucket List item that needs ticking off before you're too old to survive it (from personal experience, 26 years of age is at the very limits of pulling through having this much fun and living to tell the tale!).
First thing's first, how much will it cost?
How much would you typically spend at the Electric Picnic? I guarantee you, you could do four more days at Sziget, in 30 degree heat, with some of the coolest people from over 100 countries, for an extra couple of hundred euro!
Essentials
Your 7-Day Pass is €269 (that's a bloody cheap fee for entry to what is essentially heaven let me tell you), add in flights (going through the USIT agent network we got our return flights for only €230).
Accommodation
Sziget has tons of room to camp at the festival but having heard horror stories from last year's 40+ degree heatwave there was no way we were going to slum it for a week. Particularly as accommodation is Budapest is hilariously cheap!
4 and 5-star hotels complete with pools, spas etc can be booked for as little as €35 per night. We wanted the little extra freedom (to free pour with reckless abandon and equally curl up into a dehydrated ball of regret the following day) so decided that an apartment was the way to go. We stayed on Kiraly Utca in Pest in the Central Parker Apartments and apart from finding a half-naked and confused Dutchman asleep on 'our' couch when we arrived (reception mixed up the rooms, we weren't even mad it was hilarious) the 4th floor, two-bed penthouse apartment complete with balcony was perfect. Our place worked out at €300 pp for four people sharing so for 10 nights in Budapest that was more than reasonable.
Getting Around
There's definitely something to be said for getting the €33 City Pass, giving you access to all public transport for the week plus discounts into Budapest museums and the Hop On Hop Off Bus Tours. We just used the abundance of taxi's to and from the festival (15 minutes away) and about 2000 HUF (€7) each time and in hindsight, despite the convenience, the City Pass was probably a better option. word to the wise, watch out for the odd dodgy taxi man who wants to take you round by southern Yemen and charge five times the cost, otherwise, taxi's were abundant and most spoke decent English.
Food & Drink
Sziget is a cashless festival, a super handy way to keep an eye on your spending. Just top up your Festipay card using your bank card or cash at any of the kiosks and pay for everything with it. You're better topping up enough for two/three days at a time as the queues can get pretty big. We put 30,000 HUF (€200) each on our cards and didn't need to top up until Day 4. Beer is crazy cheap, 390 HUF (€1.40) for a pint with cider similar however shorts like Vodka, Whiskey, Bacardi are much more expensive and a little like home.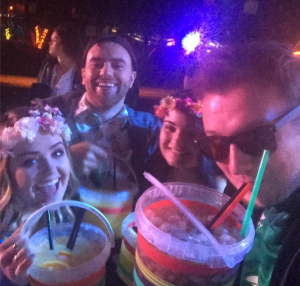 Four vodka and cokes were €20! A seriously decent alternative is the wine bars, with a bottle costing about €6 and sympathetically dished out in a gloriously unspillable sippy cup (why they're not socially acceptable for adults to use elsewhere is genuinely upsetting).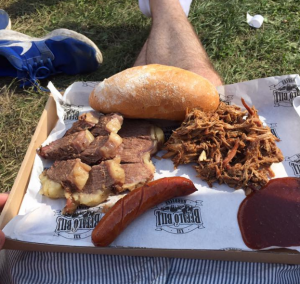 DO NOT FORGET TO EAT! Number one pitfall of a festival where you'll likely walk 25km+ a day and burn at least 4,000 calories is forgetting your breakfast, brunch, elevenses, pre-lunch, lunch, afternoon snack, dinne…you get the idea.
Being honest, Budapest in general, is definitely not a foodie's paradise and a lot of what we ate was pretty grim. We tried the local cuisine (Goulash isn't for everyone) and even when we stocked up the apartment we somehow managed to buy 'chicken' nuggets which later turned out to be made from horse (it wasn't even a Tesco!). Then, of course there was the Thai Street Food place that gave me food poisoning and made me practically miss the Sunday of Sziget! Stick to what you know you like, you can resume the clean eating when you get home.
The one saving grace on the food front is that it is very cheap, pizza slices were fine and only 400 HUF (€1.60) for a huge one. Even the odd time we ate in the city you'd do well to spend more than €12 on a dinner sized meal, a side and a drink, alcoholic or otherwise
What makes Sziget Festival so special?
This list has the potential to get out of hand so here's my 20 biggest reasons why Sziget is the best festival in Europe (in no particular order):
At 7 Days, it's much longer than any other mainstream music festival in Europe
Mud simply does not exist, what does is sunshine and 30 degrees
Different party each day at 7pm – The Colour Party is the standout but Flags, Balloons, Pom Pom Party's are all serious craic
Half a million people, all become best mates for the week.
Dance tents have the best light shows you've ever seen
Acts to suit everyone's tastes from Sia and Rihanna (groan) to MUSE and Foals (yay)
The Island of Freedom (Obuda) is its own city, for the week you become a 'Szitizen' and leave the real world behind
There are so many quirky things to experience away from the main stages (Cirque to Sziget, Magic Mirror, Luminarium)
The festival has its own beach plus a 24-hour foam party!
There's also a sports centre for football, beach volleyball, table tennis, foot-pool (awesome), archery, tennis to name a few
If you need a break from the festival, Budapest is beautiful. Just look at the parliament building (below)
The medical staff were brilliant, if you needed them (dislocated shoulder on Day One wasn't ideal)
The Colloseum Dance Arena is made entirely of wooden pallets and drunk flying Frenchman aside (a guy jumped off the top of it on Day One, hence the shoulder issues), is exceptional.
There is literally no visible security presence, simply because they aren't needed. No crime, no violence, just great people having a great time
€10 Afterparty in Budapest City Park for those somehow still standing. Foals headlined in front of 20,000, one of the highlights of the week
The ruin bars in Budapest city are completely unique and unmissable for a night out in the city – as are the baths
The views of the city (see below)
Sziget teaches you the true power of pacing yourself. Going too hard one day, ruins you for the next two. You want to soak up the whole week not just having one colossal blowout.
You'll leave your phone behind and make memories for you, not for your social media profiles.
There are no words for experiencing the End Show with 140,000 people.
Having been there and done it, would I recommend going to Sziget 2017? Absolutely, but get in line, next year is the 25 year anniversary and it promises to be the biggest one ever. See you there?
USIT cater not just for Sziget but all of Europe's biggest and best festivals like Oktoberfest, the Bull Run in Pamplona, Barcelona Surf Camp and many more! Give us a shout info@usit.ie or (01) 602 1906 to find out more.